As a disclaimer for the personal concept art project; during my process of studying the techniques of practicing concept artists and their work, I was attracted most to an early stage in production. This being when imagery is very conceptual and loose, my earlier works being exceptionally so, based around patterns and studies. My technical drawing of interior design and architecture has improved dramatically and I think all my studying of perspective has really benefited me. My body of work here is an attempt to create a mood, an atmosphere, an ambience. Therefore it is not nailed down finalised character design etc, though I appreciate that this another crucial aspect of concept art. It is rather an earliest stage in production, where characters are not characters and are more figurative. Seeing how a figure translates into an abstracted location.
It's this area of design which attracts me to concept art.
What this personal project became; originally I had set myself a narrative. Though after attempt after attempt to stick to one setting I had decided for myself to draw in advance, I found that I had set myself up poorly in terms of artistic development. It became more of a focus to a general "dystopia" and general "figure" as representational elements, rather than a strictly laid out narrative to illustrate. Perhaps for me art and narrative should be made simultaneously, and each should feed off of the other. My final pieces are very abstracted, but I am personally satisfied with my movement from traditional to digital artwork. I find that my skills are transferable and that with the use of digital media I can achieve things in photoshop in regards to 2D image making that perhaps I couldn't have done before.
To inspire and guide my development in this personal project; I chose to find inspiration from artworks produced within the concept art industry. I have selected a few particular artists whose work I find especially interesting. Looking for a common thread throughout; I'm not interested in concept art because it appeals to a certain genre per se. For instance some people may be drawn towards art such as fantasy or sci-fi. The common thread for me, I am drawn to artists who work is very technically impressive, I also like things that may be considered dark. The artwork I select for inspiration is based off realism, I'm not overly interested in cartoons. And I hope that there is a sense of surrealism; though due to the design aspect of the concept art industry, abstraction and surrealism tend to be experimental choices. Therefore they're not always seen in commercial art.
I hope artwork such as this has inspired and influenced my artistic tastes.
Surreal "Sphinx" sculpture from Jazz Abdoel, I love sculpture like this, it inspires me to take on more zbrush projects. The take is simple yet so interesting and effective, I also love the colourless finish on the piece. Though I don't want to compare my own work to something of this quality, it is very evident that I would admire this style of art when comparing it to my own sculpture.
I admired the digital paintings of Eduardo Garcia and Gerard Dunleavy very much, the technique is outstanding, and their command of colour is so commendable. I was intimidated by digital painting before embarking on this project. I found that in digital painting however a lot could be achieved with remarkably little, with understanding and good visual references it becomes easier to produce a painting of quality.
My confidence is in drawing and lines, but I found that if I thought of painting as drawing in its own right, I would overcome any notion of "I don't know how to paint". I think this improved my confidence in the area.
Evan Amuldson is a Swedish concept artist and illustrator, as a personal project to maintain his high skill level in design and fantasy illustration he sets himself a "daily drawing" challenge. The outcomes are great and would be considered finished illustration pieces for many artists, due to the high quality.
I really enjoy the work of Philip Harris-George probably because it draws on symmetry, graphic shapes and iconography and the human figure. It's very interesting, and informed a lot of my early pieces in this concept art project.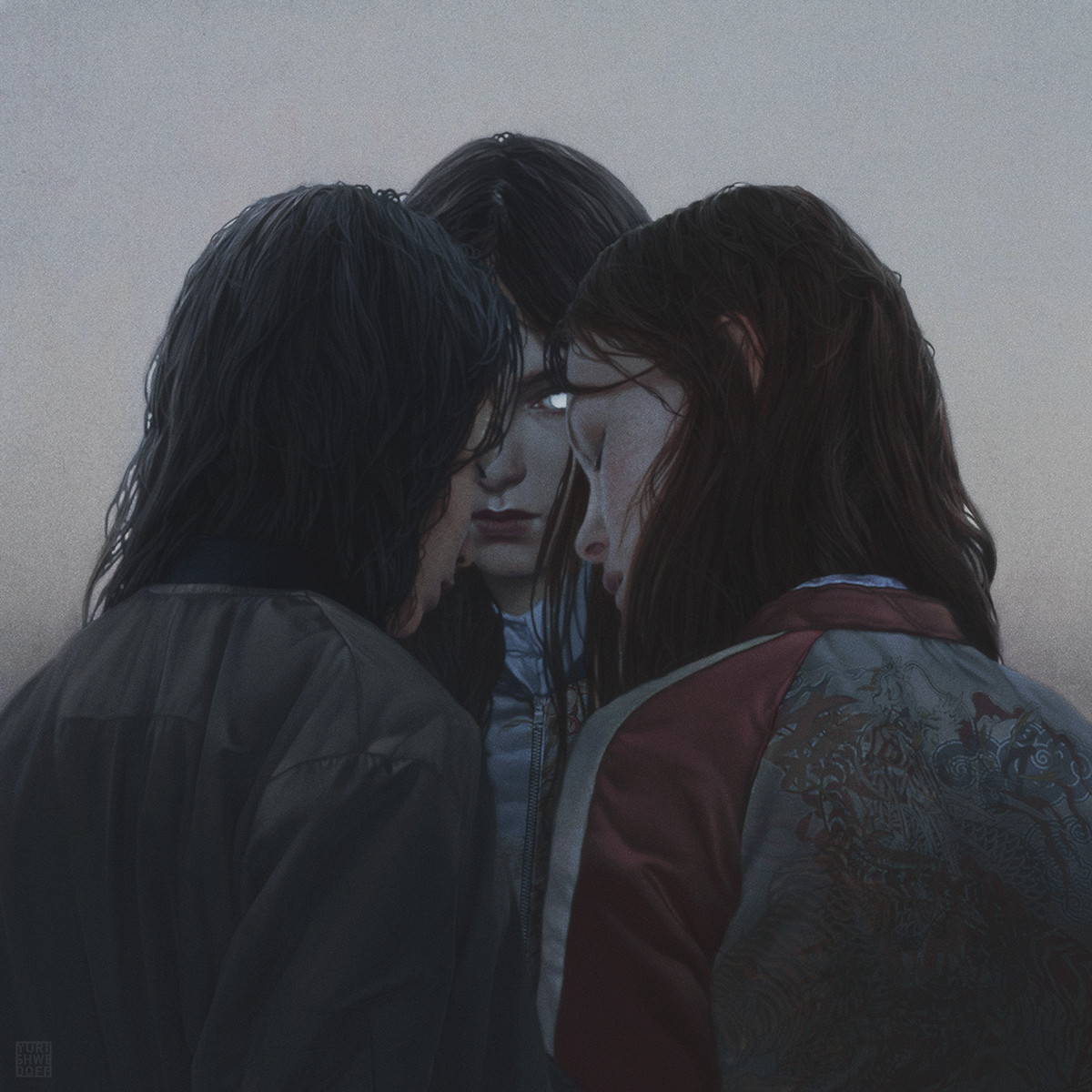 Yuri Shwedoff has been a massively inspirational artist for me, I feel like I need a standard to set my work to attempt to match, for future goals. And for me, that is this artist. Absolutely incredible and inspiring paintings, they are peaceful yet unnatural, hinting at violence though subtle, and distinctly surreal. His understanding of setting the particular foggy atmosphere is flawless, and his understanding of composition and perspective, as well as uniqueness of concept is so inspiring to me. I find myself more and more influenced by this artist as I develop my style, my latest paintings perhaps a bit too much. It is important to remember to draw influence from multiple artists and sources rather than just attempting to become one artist, because you will only ever be a lesser version of that artist.